Stephen's suggestions of some of the most popular bits you may see at events next spring!
December 8th, 2017
Our MD Stephen Biddlecombe is the UK distributor for Bombers Bits. If you're planning a winter of training ahead of eventing next year (2018), have a look at Stephen's suggestions of some of the most popular bits you may see at events next spring:
British Eventing has an extensive list of allowed bits within horse trials, which can be obtained from the organisation – essentially, snaffle bridles, pelhams, ringed continentals and American gags, as well as bitless and double bridles, are all allowed across country, and within the show jumping element.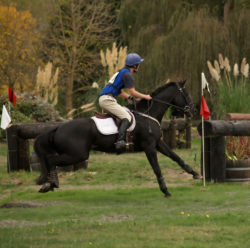 Meanwhile, within the dressage element, the rules are more strict, with bits such as curbs being prohibited. In general however, plain snaffles with a straight bar or joint at the centre (or a smooth double jointed central pieces) are allowed; consult the BE rulebook for clarification.
A popular SJ bit
The Buster Roller Petros Loose Ring, from Bombers Equestrian Equipment Bits, has a rotating Petros mouthpiece with a 40mm roller – this increases pressure on the horse's tongue, and prevents the horse taking hold of the bit – it is positioned at 45°, to follow the tongue contour. When the rein is used, the increased bar pressure helps lift the head – meanwhile, the loose ring provides a quick-release effect. Its sweet iron composition heightens the horse's awareness of the bit and they oxidise easily, encouraging salivation. This bit retails for £78.
An ideal dressage bit
For horses with sensitive mouths, the Elliptical Loose Ring from Bombers is ideal – it features a 45 mm lozenge in the centre which has a small surface area, so a horse that uses its tongue as a means of pushing against the bit will 'draw back' to a better point of control. It is used by many riders of horses that headshake, if the headshaking is caused by a sensitive tongue; headshaking is a classic symptom of this condition, and is simply a way of avoiding pressure. (Because horses are flight animals, they do not yield to pressure or pain, but instead move away from it.) The Elliptical Loose Ring helps some stressy horses relax, and again the sweet iron aids salivation and mouth comfort. This bit retails for £68.
A bit for XC riding
The Ringed Continental is ideal for cross country – Bombers makes a 2.5 ring bit that is available in all of the commonly seen mouthpieces, and in sweet iron. The 2.5 ring version is the 'softest' version of all the Ringed Continentals. It us often chosen by riders of horses that can be heavy in the hand; ringed Continentals are best described as a cross between a traditional gag and a Pelham. They aim to help to keep the horse between hand and leg. The Buster Roller 2.5 ring retails at £77 and again features a small 40mm link that increases bar and tongue pressure.
Bombers Bits include hundreds of off the shelf bitting solutions, and customers can even design their own bespoke bit with their chosen mouth piece, cheek piece and bit size, using the 'design your own bit' service at www.worldwidetack.com – contact us for info. Tel – 01825 841 303.
Recent articles