New HPA Rules Regarding Polo Helmets
January 24th, 2018
Instinct Polo Helmets

Due to the Horse Polo Associations new rules and regulations regarding polo helmets, we are delighted to announce we are now selling the new Instinct Polo Helmets.
What is the new rule?
A: After many years of lobbying by safetyconscious
members, the HPA has adopted a new set of rules requiring HPA members playing polo to wear a helmet manufactured to safety standards. As a policy, the HPA will now adopt the same standards as the British Horseracing Authority (BHA). From 1 January 2018.
The safety standards have come about to catch up with legislation regarding other equestrian sports such as Racing and Eventing. Therefore, there are now rigorous safety standards in place, including testing on the impact absorption on Polo helmets and the introduction of a three-strap harness.
The Instinct Polo helmet meets the newly imposed safety standards.
It has two innovations – the shock-absorbing material is an aluminium honeycomb that appears to absorb impacts more than expanded polystyrene, which is used in most other helmets. The helmet also has an optional titanium faceguard, which attaches to the main helmet body, instead of the peak, which should afford additional protection.
These Instinct Polo helmets are fully customisable, so can meet all your specific needs.
For more Information, please contact 01403-249966 or alternatively email sussexsaddlery@btconnect.com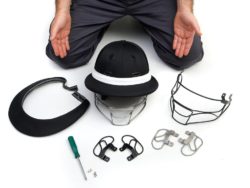 Recent articles