Adjust the length of the horse's stride, for optimal eventing success, advises Royal Rider Stirrups ambassador, Ryan Wood
March 19th, 2019
Australian eventer Ryan Wood is one of the world's leading eventers, recently winning theLexington Virginia CCI1* riding Ruby, and placing top ten with at Pau in the CCI4*, riding Woodstock Bennet. He advocates that XC fans really hone their ability to adjust the length of their horse's stride, for optimal eventing success!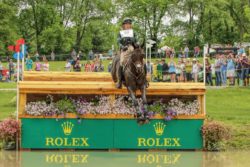 "Ideally when you're riding safely across country, your rhythm stays very much the same, and only the length of the horse's stride changes, to adapt your speed. As a rider and coach, I find that one of the single, most important elements of successful riding is the ability to adjust your horse's pace, or the length of the horse's stride. It keeps you both safe, especially when the horse is in the early stages of his education," Ryan says.
"For example, my ride Billy McClusky contests Preliminary level events in America; at this level, I am looking for good agility, but also control and responsiveness. At Preliminary level, we're tackling fences of around 3'7″ in height, before preparing for International 1* events. He's seven; so bold, but still learning – but we are contesting courses that include jumping efforts with angled lines, corners, simple bounces and water combinations or narrow fences. So, the horse does need to be fairly skilled at lengthening and shortening the stride to tackle these fences, without losing some confidence," Ryan adds.
Transitions within a pace
"A good example of adjusting your horse's pace is a transition within a pace; e.g. slowing an ongoing canter to something more bouncy and collected. This helps you approach an obstacle in control, and in a good rhythm. Even though you may be aiming to use these skills when riding across country, basic pace adjustment must first be established in the manege or arena," he continues.
"Your horse should be responsive in both upward and downward transitions in an enclosed area, before venturing onto an XC course. So why not practise working on establishing your upward and downward transitions in the arena; it's a good use of time while the weather in Europe is temperamental!"
"If you're serious about eventing, then you will want to choose stirrups that optimise performance. That's why I use Royal Rider Stirrups. A highly engineered stirrup like these actually helps aid rider balance. It helps the rider keep their stirrup iron on the approach, take off, jump, landing and get-away, and allows the rider to maintain the correct position of their foot, and achieve greater balance over a fence.
They also offer shock absorption, which is great when you ride as many horses a day, as I do!" Ryan concludes. Read more from Ryan Wood HERE.
Recent articles