Coscojero bit or Johan Du Plooy?
September 1st, 2018
World Wide Tack's MD, Stephen Biddlecombe of Equine Management Ltd, offers a Polo Times magazine reader bitting advice: 
Q.
I have been advised to try a Pelham with a roller for my strong mare. She doesn't lean as such, but is very forward going, and I could do with quicker responses. Would a Coscojero or Johan Du Plooy Pelham work?
A.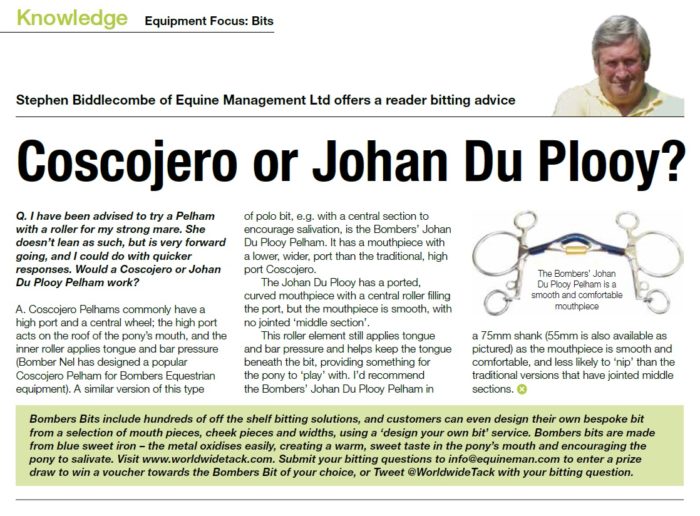 Coscojero Pelhams commonly have a high port and a central wheel; the high port acts on the roof of the pony's mouth, and the inner roller applies tongue and bar pressure. (Bomber Nel has designed a popular Coscojero Pelham for Bombers Equestrian equipment.) A similar version of this type of polo bit, e.g. with a central section to encourage salivation, is the Bombers' Johan Du Plooy Pelham. It has a mouthpiece with a lower, wider port than the traditional, high-port Coscojero.
The Johan Du Plooy has a ported, curved mouthpiece with a central roller filling the port, but the mouthpiece is smooth, with no jointed 'middle section'. This roller element still applies tongue and bar pressure and helps keep the tongue beneath the bit, providing something for the pony to 'play' with. I'd recommend the Bombers' Johan Du Plooy Pelham in a 75mm shank (55mm is also available) as the mouthpiece is smooth and comfortable, and less likely to 'nip' than the traditional versions that have jointed middle sections.
Bombers Bits include hundreds of off the shelf bitting solutions, and customers can even design their own bespoke bit from a selection of mouth pieces, cheek pieces and widths, using a 'design your own bit' service. Bombers bits are made from blue sweet iron – the metal oxidises easily, creating a warm, sweet taste in the pony's mouth and encouraging the pony to salivate. Visit our home page www.worldwidetack.com. Submit your bitting questions to info@equineman.com to enter a prize draw to win a voucher towards the Bombers Bit of your choice, or Tweet us at @WorldwideTack with your bitting question.
Recent articles