COMING SOON FROM MANE N' TAIL: The Ultimate Gloss : the future's so bright you're gonna need shades!
December 19th, 2018
What's new?… coming soon to World Wide Tack – the breakthrough, Mane 'n Tail Ultimate Gloss Shampoo and Conditioner. 
It provides the highest shine we have ever seen on a horse's coat, mane and tail. Isn't that what every horsey person wants? A horse with a healthy, natural feel and brilliant shine.  Mane 'n Tail continues to bring high quality grooming products to the equine industry since 1970… now, Ultimate Gloss is the winning combination to get your horse looking its best for any event or competition.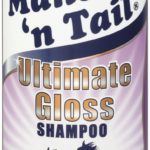 The Mane 'n Tail Ultimate Gloss Shampoo provides your horse with gentle deep cleansing, leaving the coat soft and silky with a premium, reflective shine.  The pH balanced formula is gentle enough to use every day.  Coats, manes and tails will be shiny, silky and residue-free. The shampoo helps to eliminate dry skin and dandruff.  The rich lather gets rid of the toughest dirt and rinses easily, while leaving your horse with the ultimate gloss!
The Mane 'n Tail Ultimate Gloss Conditioner is a deep penetrating formula that moisturises, while building volume and restores elasticity and strength for your horse's mane and tail. Ultimate Gloss Conditioner helps to detangle, making the mane and tail easier to comb out. The formula's pH balance is safe for everyday use and may be rinsed out or used as a leave-in treatment. Moisturisers help to condition dry, brittle, damaged manes and tails leaving them with a soft, luxurious, silky feel. The conditioner leaves your horse's mane and tail with a brilliant shine…
Watch this space! Coming to World Wide Tack in the new year (2019).
Recent articles