NEW sponsorship with superstar polo player: Hazel Jackson!
September 10th, 2018
Stephen's Polo, part of leading distributor Equine Management, with ranges retailed at outlets including yours truly, World Wide Tack, is proud to announce sponsorship with superstar polo player, Hazel Jackson!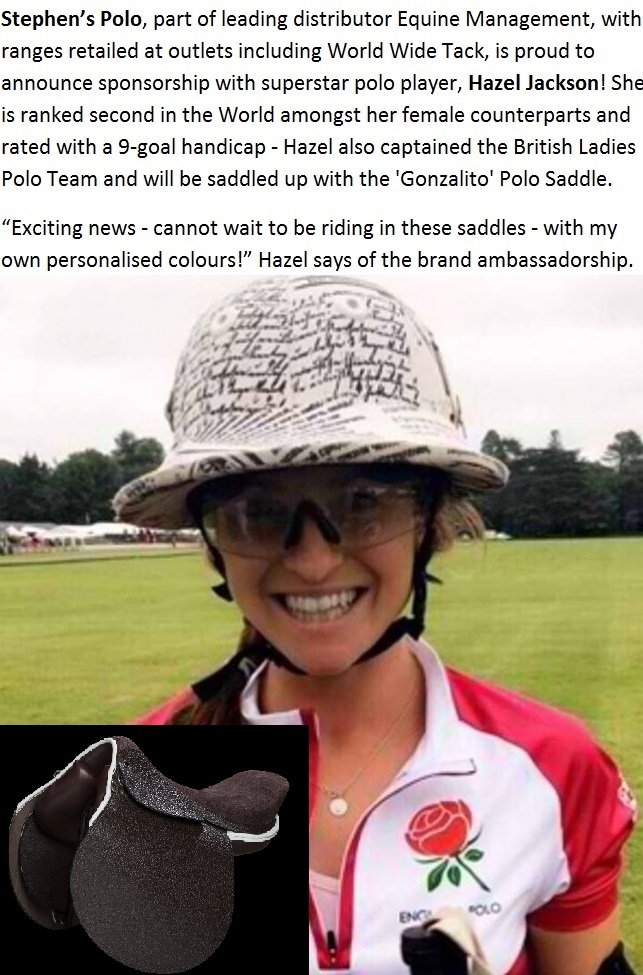 She is ranked second in the World amongst her female counterparts and rated with a 9-goal handicap.
Hazel also captained the British Ladies Polo Team and will be saddled up with the 'Gonzalito' Polo Saddle, which features in high-goal polo, worldwide.
"Exciting news – cannot wait to be riding in these saddles – with my own personalised colours!" …
Hazel says of the brand ambassadorship.
The Stephen's Gonzalito Polo Saddle is priced at just £995.00.
Stephen's Gonzalito Polo Saddle is named after (and endorsed by!) Gonzalito Pieres; he was pivotal in the design, production and feel of the new Stephens saddle.
Additionally, Worldwide Tack's Managing Director Stephen Biddlecombe explains: "The Havana brown saddle is British-made in Walsall, and is currently available in size 18"; it bears all the key tenets of the Stephens range, including high quality English craftsmanship twinned with a dedication to innovate where possible to improve the performance of both horse and rider."
Especially relevant, the Gonzalito has a classic wooden tree; the gullet of the saddle is wider than that found in most polo saddles. As a result, riders weight is more evenly distributed across the horse's back. This, twinned with efforts to reduce the weight of the saddle, eliminates equine spinal pressure.
Recent articles