Links to studies relating to saddle pads, locomotion & equine biomechanics (saddle pads / numnahs / saddles)
June 18th, 2018
In our editorial features, we sometimes reference studies relating to saddle pads, locomotion, equine biomechanics and the like.
Here we have detailed some links to the studies as sometimes there's too little space to detail the studies in the articles themselves:
Why are we referencing these studies? To share our interest in equine back health and the importance of quality saddlery and an optimal fit. (For info – a quality saddle pad can enhance a saddle's fit, and also protects the saddle from wear and dirt – particularly when the horse sweats. A pad can soak up some of the sweat, helping to avoid irritation. Today's saddle pad and numnah fabrics are also technologically advanced, meaning they are machine washable, for the most part, and also hold their shape well.)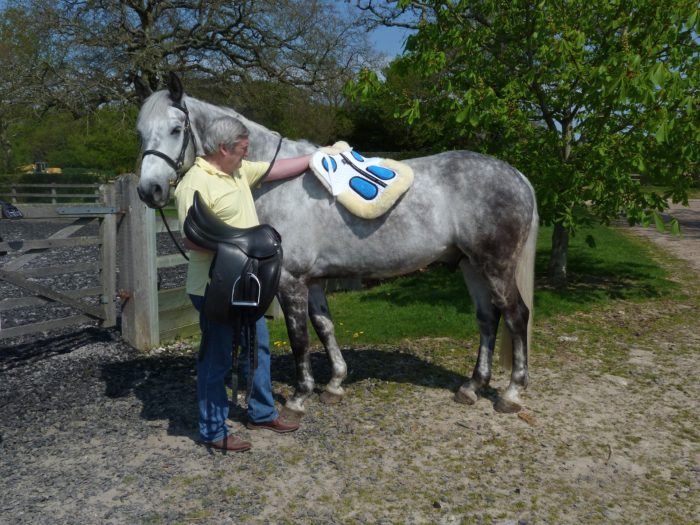 A study examined the forces that act on the horse's back in different rider positions in trot, by using an electronic pressure mat beneath a saddle. While the two point seat – the jumping position – gave the highest levels of rider stability and the lowest load on the horse's back, sitting trot was found to put the most levels of pressure.
(Vet J. 2010 Apr;184(1):56-9. May 9. 'A comparison of forces acting on the horse's back and the stability of the rider's seat in different positions at the trot'. University of Veterinary Medicine, Austria.) 
A further study found that the front part of the saddle rotated in the opposite direction to the rider's pelvis, and that the rider's influence on the horse's movement pattern is strongest at walk. So, horses experience pressure even at slower gaits.
(Equine Vet J. 2010 May;42(4):340-5. 'Kinematics of saddle and rider in high-level dressage horses performing collected walk on a treadmill.' Swedish University of Agricultural Sciences, Sweden.)
Another study investigated the forces and pressure distribution achieved from different saddle pads; they found that maximum overall force was reduced in up to 61.1% of subjects when gel pads were used.
(Vet J. 2010 Jun;184(3):322-5. Apr 9. 'The influence of different saddle pads on force and pressure changes beneath saddles with excessively wide trees.' University of Veterinary Medicine, Austria.)
A landmark study published in the Equine Veterinary Journal reported that while saddle pads are widely used in riding sports, their influence on saddle pressures is poorly understood. The team studied sixteen sound horses of different breeds and ages – they were ridden on a treadmill at walk and sitting trot. The researchers concluded that in their study, they found that 'a well chosen saddle pad can reduce the load on the horse's back and therefore improve the suitability of a fitting saddle.'
(Equine Vet J. 2010 Mar;42(2):114-8. 'The effects of different saddle pads on forces and pressure distribution beneath a fitting saddle.' Kotschwar et al.)
Recent articles