Royal Rider's Evo Action stirrups – 'Grippy, lightweight & easy to put on', reports a H&R reader.
January 17th, 2018
'Versatile all-rounders….'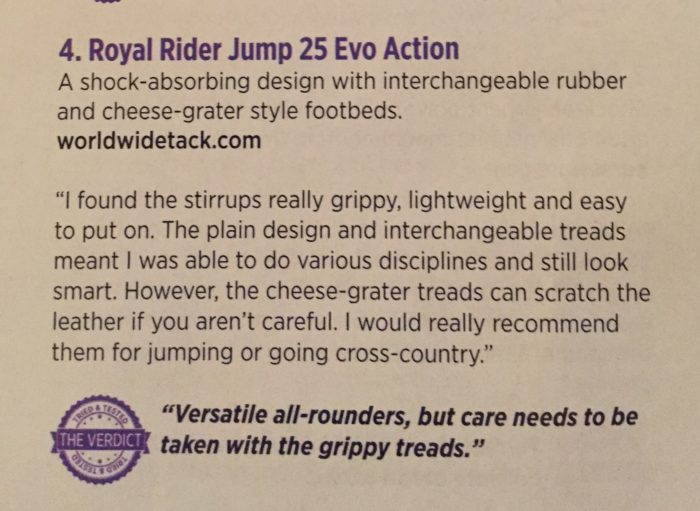 'Grippy, lightweight & easy to put on', reports a H&R reader.
The Evo Action Stirrups from Royal Rider, called "Jump 25 Evo Action", differentiate mainly by an innovative feature, and by a technical and sporty design, while maintaining the same quality of strength, elasticity and comfort of all Royal Rider stirrups.
At the top of the attack of the stirrup leather, Royal Rider has inserted progressive springs, avoiding in this way to modify the hardness dependent on the weight of the rider. This allows a higher comfort in a first phase of work (when riding in suspension). Therefore, this maintains unchanged safety and sensitivity features and gives the rider a sense of stability and support.
In a second phase, when the pressure on the stirrup becomes more important, the system of cushioning is completely integrated with the body of the stirrup, obtaining the flexibility and the elasticity typical of our stirrups, maintaining its structural integrity and nullifying in this way the problems related to stress in the joints of the rider caused by the use of conventional stirrup, made by steel and aluminum, and does not require any type of maintenance.
Suitable and recommended for all the equestrian disciplines!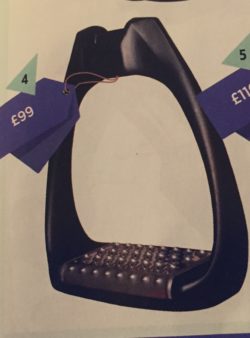 Recent articles