Using the Bombers Happy Tongue Weymouth – Which type should I use?
May 15th, 2019
Why a Weymouth?
The Weymouth, worn with a double bridle, works on several parts of a horse's head and mouth. Furthermore, the mouthpiece acts on the bars, tongue and roof of the mouth; the shanks add leverage and place pressure on the poll, via the crownpiece of the bridle; the chin is utilised groove via the curb chain; and there may be pressures on the sides of the mouth and jaw, too.
The two similar-looking mouthpieces we have mentioned are the Happy Tongue Weymouth and the Happy Tongue Straight Weymouth.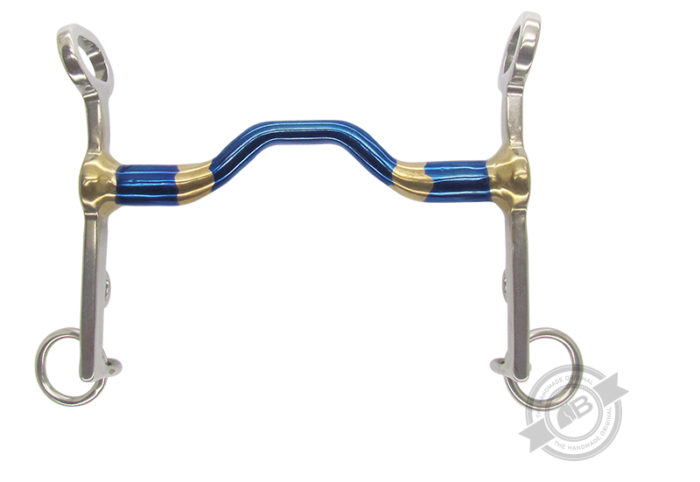 We generally recommend the Happy Tongue Weymouth, as it a softer bit due to its generous, curved port. This creates sufficient space for the tongue, relieving pressure and allowing the horse to relax; essential at the levels of dressage when a double bridle may be used (optionally from elementary, and a requirement from Prix St. Georges to Grand Prix). The Happy Tongue bits are popular with owners of horses with sensitive or large tongues, and many head-shaking horses respond well to them too. The Happy Tongue Straight Weymouth usually suits a horse with a smaller or less sensitive tongue, or smaller mouth confirmation overall. It is slightly ported to relieve tongue pressure, but is not curved. This makes it slightly harsher than the curved version, in terms of the distribution of the pressure on the tongue. Both bits comply with FEI / BD requirements.
Dressage rider Kirsten Wing, a former eventing enthusiast who's currently based with eventer Nick Gauntlett, is a brand ambassador for Bombers Bits. "Sometimes finding the most suitable bit as part of the horse's training regime can be a puzzle, but it is so rewarding when you find the final piece," she says. "When you're riding and competing, you're having a conversation with the horse, and where that usually goes wrong is with the bitting. Choosing a bit that reduces mouth pressures, and offers comfort and harmony can definitely aid performance. Every horse has the potential to go well in a Bombers bit, if ridden well."
Recent articles